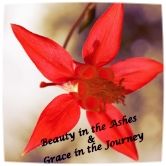 This is my first Link up post, and I'm excited to share it! For a bit more info on this little linky-loo, visit here. I hope you'll join in the fun!
So, these last few weeks have been pretty crazy. I've gone from working full time to having the summer off (the money isn't great, but the perks of working in education are!) and the biggest change, from three children to four. We finalized our most recent adoption on the 26th of June, and while we now have four kiddos, this is our first baby. My cousin and I were laughing about that the other day-most people start with an infant and work their way up from there. Us? Naw, we started with a seven year old and worked our way down to an infant.
This journey to motherhood has been far from simple, and it's taken me a lot of time, faith and energy to see the grace and the beauty in it.
But I'm here now, and looking back I can see where much of the fire that burned my heart has left great beauty in the ashes. I have scars that prove I'll never carry a child in my body, but a faith that knows I'll carry them in my heart. Even when the days are rough and I'm not sure how we're going to make it.
A few years ago I decided to go to graduate school. I have issues with education, mainly in that I can't decide what I want to be when I grow up so I keep going back to school. But this time when I went back for my masters, I hadn't anticipated a babe would be joining our family. And I didn't anticipate quite how much it would cost, either. I had an idea, but then after getting fully immersed in the program-to the point I couldn't bow out-new expenses reared their ugly head. The result? Student loans I'll be paying until I die. And there's no way I can not work. It's something that I carry extreme guilt over. A hardship I feel I've single handedly imposed on my family. Fortunately my hubby begrudges me nothing. The guilt is my own. But here's the problem: I know have this amazing, beautiful little babe, and I cannot bear to think of putting him in daycare. I have literally counted the months and days of his life that will be under the care of some one else while I can work and it breaks my heart. I fell asleep last night with the prayer on my lips, asking for peace and grace to make it through this new journey.
And I know it's there. I know that I'll be shown the purpose of these flames licking my heart. And I know that His grace is sufficient for me, and I've already learned so much through this journey. Maybe part of the lesson is to afford a bit of that grace to myself. I was given the gift of mothering this babe, and the door was opened for me to further my education. There is a reason in each of those, and given time, I know I'll see it.
document.write('